NECMA is offering 2 ICPI Paver & 2 NCMA SRW contractor certification courses in conjunction with the Northeast Hardscape Expo. Lunch & a light breakfast is included. Registration opens at 7:00AM, classes begin at 8:00AM. 

Course Descriptions
 Permeable Interlocking Concrete Pavement (PICP) Specialist Course
April 5
This one-day classroom based course trains experienced contractors about the differences of installing PICP vs. regular interlocking concrete pavement systems. It is aimed at contractors who are presently doing residential and/or commercial concrete pavement installations and wish to move into the permeable pavement market. It is recommended (but not required) that participants have completed the ICPI Concrete Paver Installer Course prior to attending this course. A PICP Specialist designation may be earned by meeting additional requirements. 7 CE Credits offered. Course content includes job planning & documentation, job layout, flow & estimating quantities, soil & site characteristics, sub-base & base materials, edge restraints, bedding & jointing materials, paver selection & installation, maintenance.
National Concrete Masonry Association courses
Segmental Retaining Wall Installer Courses
April 4 – Level 1 / Basic
April 5 – Level 2 / Advanced
The one-day Segmental Retaining Wall (SRW) Installer Course teaches installers fundamental SRW installation guidelines, material and system component properties, soils and compaction, the effect of water, and site practices. Segmental Retaining Wall Installer Course – Advanced Take your hardscape installation skills to the next level! This program teaches you SRW applications and installation techniques for advanced residential and light commercial projects, and is open to NCMA Certified SRW Installers (CSRWI) who are engaged in the construction of SRWs. Advanced topics include: wall layout & planning, water & drainage, cut & fill walls, tiered walls, corners & curves, stairs, and patios. This course is available to each candidate who completes the SRW Installer Course (or equivalent SRW-installation-related education) and passes a written examination).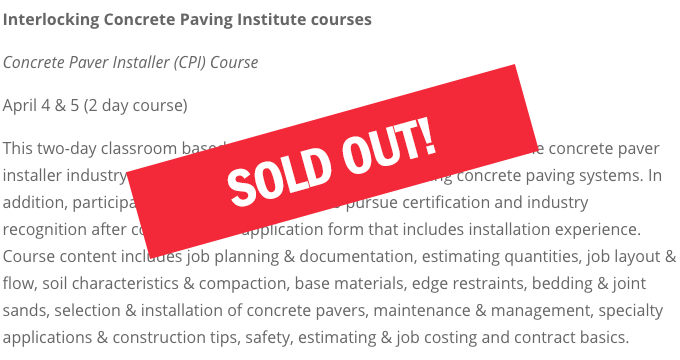 Daily Agenda
7:00 AM Registration (Coffee & Donuts)
8:00 AM Course
10:00 AM Morning break
12:00 Noon Lunch
1:00 PM Course resumes 3
:00 PM Afternoon break
5:00 PM Course Conclusion (contingent on testing)
PAYMENT REQUIRED WITH REGISTRATION Payment can be made by credit card online or by check payable and returned to NECMA P.O. Box 448, Manchaug, MA 01526-0448 / email to dimmick@necma.com / fax to 508/476-3467. (Written cancellations received 1 week prior to 1st day of training will receive a full refund. Cancellations after this date will receive no refund.
Photos reprinted by permission of HNA and ICPI.