Pavers by Ideal
Ideal… a name you can rely on! – As a 4th generation family owned company, we have made New England our home for nearly 100 years and are one of its leading manufacturers of permeable and interlocking concrete pavers, landscape retaining wall systems, steps and hardscape elements. You can feel confident using our products on your landscape projects. As one of the first companies in the United States to manufacture concrete pavers, we bring you over 45 years of experience and have sold hundreds of millions of square feet of pavers and countless walls throughout New England. Our knowledge and expertise of producing quality concrete products over the past nine decades go into every product we develop, manufacture, and offer. You can rely on Ideal…
New Products
Color with 4D Technology!
We have taken the next step to offer pavers with advance performance, colors and longevity – Color with 4D Technology – our newest innovation to our line of select pavers.
Our advanced 4D Technology incorporates a unique manufacturing process that integrates proprietary ingredients supplemented with in-line treatments that enrich and enhance the appearance. Color with 4D Technology pavers have deeper, richer colors fortifies with superior performance against the elements. They are delivered treated and protected from the factory thus saving the added costs, extra steps and waiting time incurred when a sealer is applied to pavers after an installation is complete. Our 4D Technology protects the surface immediately from UV rays, stains and spills and the effects of acid rain – all while providing color fastness that lasts for years to come!
Color with 4D Technology pavers meet and exceed ASTM C936 and CSA 231 standards for interlocking concrete pavers – including freeze-thaw and durability requirements. Unlike sealed or slick pavers, the coefficient of friction is not changed. The surface texture is slip and skid resistant. Efflorescence is no match for the improved surface and matrix of our 4D Technology. Chances of it occurring are far less in 4D Technology pavers.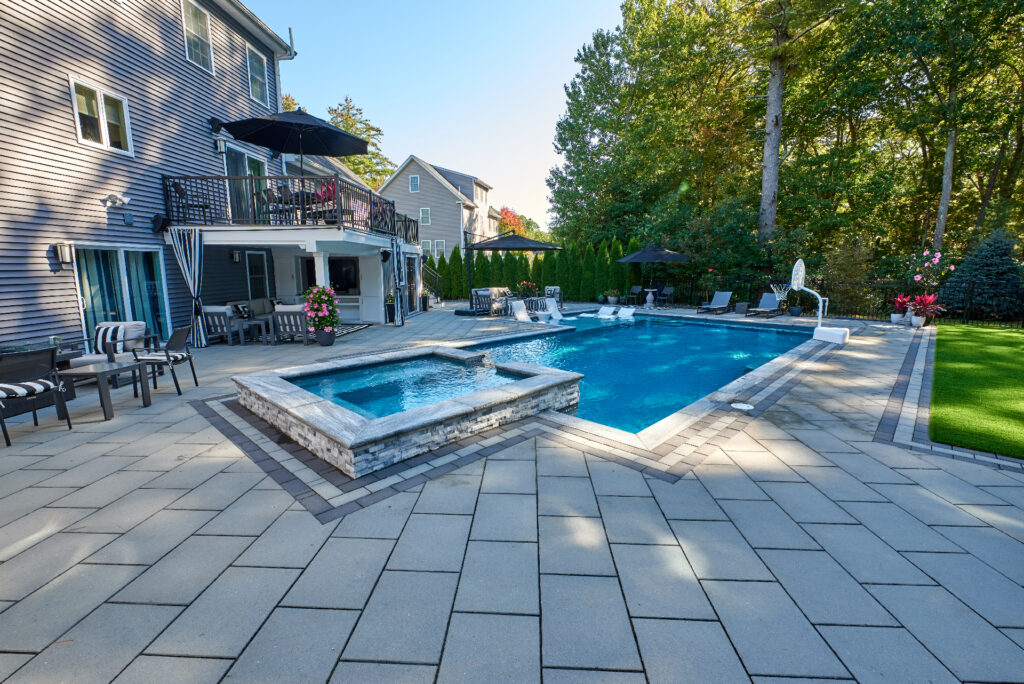 Andover GrandStone pool deck in Pewter


BrookStone patio in Chatham Blend with Yankee Cobble Circle Pak and our Ancestral Wall


FatFace retaining wall in Granite Gray